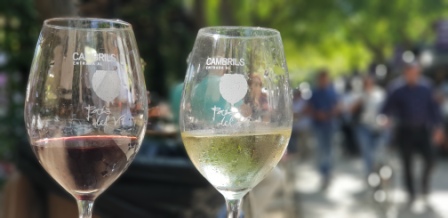 WINE & GASTRONOMY FAIR, Cambrils, gateway to the country of wine
In October the Wine and Gastronomy Festival is held in Cambrils in an unbeatable setting such as the Pescador Park of Cambrils, a magnificent park that takes place in the maritime district of the town. With different spots, where each one have in common their cuisine and oenology.
Throughout four and a half days we will enjoy this long-awaited enogastronomic, cultural and fun event in a relaxed and festive atmosphere where we have incorporated more novelties such as show cookings, wine pairings, music, crafts market and educational and gastronomic activities.
In this Wine and Gastronomy Festival you can taste a great variety of excellent wines from the different denominations of origin of the territory (DOQ Priorat, DO Montsant, DO Tarragona, DO Terra Alta, DO Conca de Barberà, DO Cava, DO Catalunya and DO Penedès), where over 25 wineries perfectly pair their best wines, tapas and gastronomic tastings prepared by restaurants and gastronomic establishments in Cambrils.
In this Wine and Gastronomy Festival, we have also wanted to expand the entertainment on offer and therefore to liven up the Fair there will be different live music groups.
As the great family destination that we are, we have also prepared a leisure and cultural activities for the younger ones in the family. Thus, the little ones can have fun with the cuisine and wine culture.
For further information, consult the PROGRAMME