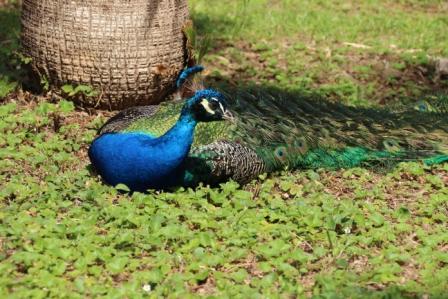 PARKS OF CAMBRILS
Cambrils local parks, green areas and leisure areas in Cambrils
Cambrils has green areas, parks and recreation areas for everyone to enjoy. In addition to the green areas that we can find scattered throughout the town of Cambrils, we have local parks that are places to unwind and have fun, one being in the town centre, the Parc del Pinaret, and another in the heart of the port, the Parc del Pescador.
The youngest also have their playgrounds in the parks and green areas along the promenade that run along the coast of Cambrils, in addition to the children's areas on the beaches.
Another renown park of Cambrils is the well-known Samà Park, a huge historic garden of Cultural Interest of National Interest in the vicinity of Cambrils. The garden is the home to an outstanding variety of plants to be  admired.
Parc del Pescador
It was the first park in Cambrils and was made in memory of the fishermen.
Due to its location, next to the port and in front of the beach, it is one of the most visited by tourists and visitors.
It is a park of approximately 5,000 m 2. The park, from a gardening perspective, is a varied park, in other words , a mediterranean park in the south and tropical in the centre.
The park consists of three play areas for children and a stage where many musical and festive activities are performed with changing rooms and a bar.
The quietest spot of the park is at the pond surrounded by eucalyptus trees.
Parc del Pinaret
It is the largest and most recent park in Cambrils and covers an area of ​​4.5 hectares.
The park is made up of 4 areas: a cobbled public square, where there is a photovoltaic gazebo and some stands for outdoor activities, a green classroom that recreates an allotment for the study of different native species, a forest area with picnic tables, paths to be walked and a games area for the little ones with one being of road safety education.
It is a breathtaking historical garden classified as a Cultural Asset of National Interest located 4km from Cambrils going towards Montbrió. It retains the romantic essence of the colonial era where the original owners were a family established in Cuba who wanted to bring over the exotic surroundings of the lost colony to our lands. The layout of the enclosure complies with being made up of axes, placed along the pathways with trees positioned in the corners or in the open spaces amongst important architectural elements. The house and the lake become the main point of interest of the Park, a botanical site with an impressive variety of plants being a true treasure worthy of being admired.