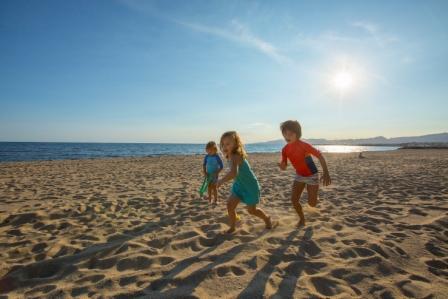 CAMBRILS's BEACHES
Description
Not so long ago a girl told us: "Cambrils is sea". She couldn't be more sure, and to be truthfully said, our town cannot be talked about without mentioning the 9 kilometers of coastline.
Here the soft waves break gently into the fine sand of Cambrils, making it perfect for the little ones to play. All that come to visit, fall in love with the place forever and find in Cambrils a perfect stay. Families can enjoy the Cambrils Sea and the four Blue Flag beaches that recognise the excellent quality of our maritime environment.
Many say that beside the sea one can find peace, serenity and tranquillity which in this day in age is greatly needed. Cambrils allows you to be a child again and to enjoy the sun amongst the laughter of your loved ones, reliving the innocence of your summer holidays. Can you recall it?
Our beaches are ideal for the little ones, with an oasis of palm trees and educational games. For the more adventurous there are also floating platforms in the sea, trampolines on the beaches and even the miniclub where they can meet other children. Cambrils is family.
If you talk to the sailors in the area, they will suggest a couple of things to do… They will all talk about what is known as playa del Regueral, which is actually called Prat d'en Forés – Regueral beach where the visitors, tourists or locals get together. Here you can practise sports in the volleyball and football courts or enjoy the beach bars and sun-loungers, beneath the shade of the awnings. In addition, the walkways in the sand and the amphibious chair baths make it one of the inclusive beaches, and it is not the only one, as you will also find these services on other beaches, such as Cavet or Esquirol.
On the beaches of Cambrils you can do everything, play with the waves in the sea – at beaches with shallow waters – or enjoy a walk along the fine sand of our coast, while the water cools your legs with its gentle touch. Meanwhile, when you are ready to go for the drink, you can choose from more than twenty restaurants and bars that are located along the promenade of Cambrils. As the Gastronomic Capital of the Costa Daurada, in Cambrils, you have a large number of exquisite choices that range from traditional seafood cuisine to the latest trends in avant-garde cuisine.
Arrive by car, on the bike path or on foot … you will see that our maritime landscape is ideal for taking a selfie. In fact, we suggest you go to the beach of La Riera and take a photo inside the letters of the town. Every day, thousands of tourists smile and capture this picture of our land. The Paseo de les Palmeres is one of the most photographed spots in the town. If you walk a little more, you will see that dogs are also welcome on our beaches, where our four-legged friends have an enclosed area where they can enjoy the sea while playing with their owners.
All we can say is, come and enjoy the beaches of Cambrils!
In the La Ardiaca beach you will find a very large area to park your car and relax with your family. The sun-loungers and the awnings in the area will allow you to leave your things in a safe place. In addition, if you like to practice sports and want to spend a good time with your family, you can do so on the volleyball court.
Not only this, you will also find an oasis of children's games where your little ones will give you times of laughter and where you will share special moments such as their first words, their first steps… a summer full of adventures and unforgettable moments.
La Llosa is one of the most famous beaches in Cambrils. The waves are calm and children can play with them without fear. In addition, it is an area very close to the town centre. It is also an inclusive area where people with reduced mobility can enjoy the sea with the amphibious chair.
You will also find an adventure area where the water is the protagonist. In the Nautical School you can practise water sports with the family. An excellent option if you want to combine sports, a family getaway and an ideal morning at the seaside.
We want the whole family to be able to bathe, even our four-legged friends. On the  beach of Horta Santa Maria you will find an enclosed area for dogs. Children can also enjoy trampolines, amongst other services. Therefore, on this beach, in addition to having such wonderful views, it is the perfect place for the whole family. A perfect excuse to enjoy the sun we have on the Cambrian coast.
La Riera beach is perfect for those who enjoy a vermouth after bathing in the sea. It is an area that is close to the promenade. In addition, for our 4-legged friends, there is an enclosed area for dogs that is very close to the recreation areas.
As Cambrils is sport, this centric beach also has an area where you can enjoy basketball, thanks to the courts located on the edge of the sea. An excellent choice for a Sunday match.
Prat d'en Forés – Regueral Beach
If you are one of those people who likes to meet people, you can do it at our Prat d'En Forès beach where Cambrilenses make the most of Sundays. A place closely linked to the seafaring tradition of our town. Its waves are perfect for children, whilst on the shore families smile and chat. There is also an oasis with children's games and palm trees that give shade. It is one of the four beaches with a well-deserved blue flag.
There is also a platform in the sea and a couple of courts to play football or volleyball.  Enjoying sport on the beach is not a problem. People with reduced mobility can also bathe in the sea as it has an amphibious chair and walkways in the sand.  An authentic Cambrils that leaves no one out!
La Playa del Cavet is a perfect place to swim in the calm waters of ​​Cambrils. In this area you will find many services, but we recommend that you find a moment to practice water sports at the Nautical School. If you want to swim for a bit, there is also an open water swimming channel.
In addition, like the majority of Cambrils, this beach is  connected by a bike path that allows everyone to access it easily and directly. There are simply no excuses!
The Esquirol beach is a perfect place for those who do not want to take the car. It can be reached on foot and is very wide. It also has access ramps for people with reduced mobility. Ideal for those people who want to spend the day at the beach as it has a bike path and a pedestrian area.
In addition, there are beach bars and sun-loungers that make it the ideal place to have a picnic with your family and to enjoy a full day of glistening sun over Cambrils. It is a peaceful beach where those who want to enjoy the nature can do so.
The beach of Vilafortuny  It is a large area where there are beach bars and which is further away from the Cambrilense centre. It is an ideal place to be with your loved ones without any interruptions. In addition, the little ones will be able to enjoy the recreation areas and the oases with children's games, where it is guaranteed to be a day full of adventures to be told. A perfect place for a Sunday family outing, where the beach will give you moments of relaxation and peace.
The beach of Cap de Sant Pere is on our border. Here, who come are those who wish to discover the most unspoiled/natural Authentic Cambrils. It is a paradise away from urban areas, where you will find a place to enjoy the tranquillity and peace with the sounds of the sea
For those who want to do activities at sea, you can practice water sports at the Nautical School in the area. With walkways in the sand, this beach becomes a place of inclusion for people with reduced mobility. No one is left out, everyone is welcome to Cambrils.