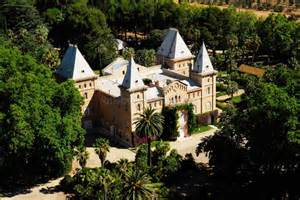 Parcs in Cambrils, the SAMÀ PARK
The Samà Park at only five kilometers from Cambrils, towards Montbrió, we will find the historic, botanical and zoological park of the Costa Dorada. It is a breathtaking historic garden classified as a Cultural Asset of National Interest.
If you are animal lovers you can also see exotic birds such as the macaws, deer, turkeys and pheasants chasing each other around the waterfall. It will be mesmerising for all.
The park also has an Indian labyrinth, one hectare in size, and a visit to the wine cellar museum , vermouth and oil.
SAMÀ PARK, A GARDEN WITH MEMORY
The 14 hectares of the park hold important historical memories and treasure a first class natural, scenic and cultural heritage. Samà Park is part of the European Network of Historical Gardens for being a prime example of the romantic and modernist gardening unique worldwide.
THE COLONIAL LEGACY OF A MARQUESS  
Samà Park is a round trip, of emigration and return. Experience the Americas. Go back and leave the legacy. Other trees, other birds, other dresses and colours, other arts …
Adventure, culture and wealth. Sama Park is the story of the marchioness of Marianao.
THE ROMANTICISM OF A GARDEN
A romantic garden, French parterres, a poetic and mysterious forest, banana trees and juncos that coexist with wisteria and bougainvillea. More than eight hundred palm trees, magical oaks and elegant cedars and pines that surround the lake where ducks and turtles live. Be inspired by the great artists …
Find the moment of peace. Harmony, easily found. Poetic forest, lakes, waterfalls and bridges. Combining the feelings of freedom and the finding of oneself. Memories from another time and place.
It is the romanticism, it is the Sama Parc garden.
MODERNISM OR THE DEVOTION TO ART IN THE NATURE
Modernism and nature. His inseparable relationship guided by the artist Josep Fontserè and Maestros with the collaboration of Antoni Gaudí. A place from where to understand the outstanding works of this universal Catalan.
Caves, walkways and benches that evoke rocks, shells and branches carefully thought out to be seen as if they were a landscape. It is the beginning of modernism and the profession of Antoni Gaudí, it is the architecture of Samà Park.
AVIARIO MARIANAO: TRIBUTE TO THE BIRDS OF CENTRAL AMERICA