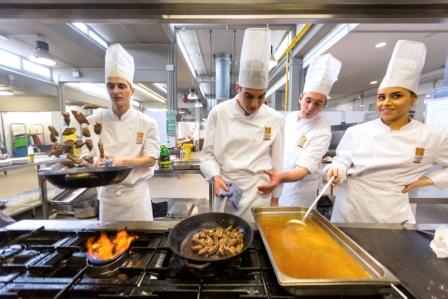 Cambrils, Gastronomic Capital of the Costa Daurada
Cambrils, Gastronomic Capital of the Costa Daurada
Cambrils is the GASTRONOMIC CAPITAL of the Costa Dorada , where the land and sea have always been generous with Cambrils, providing us with top quality products and ingredients in which our chefs have known how to show their worth. More than 150 RESTAURANTS support it, opting for traditional cuisine and also for new trends, tradition, innovation and originality that have led the cuisine of Cambrils to take a privileged position within the world of gastronomy providing a variety of choices to satisfy the most demanding of palates.
Gastronomy is culture, it is tradition and innovation, it is health and wellbeing, diverse professional paths, it is a symbol of the richness of the land and sea, as well as the creativity of its inhabitants, it is economy, it is identity and a fusion of cultures and it is the excellence of cuisine and the pleasure of the senses. Very few areas of our lives are not directly or indirectly linked to gastronomy. This connection is even more evident  in Cambrils.
Cambrils aims at promoting seasonal cuisine throughout the year, offering a GASTRONOMIC CALENDAR that highlights the seasonal products on the GASTRONOMIC DAYS that are suggested each month. This Gastronomic Calendar is a reality thanks to the participation and involvement of the Association of Hotel Owners of Cambrils , the Agricultural Cooperative of Cambrils , the Fishermen's Association, the Institute  Hotel and Tourism School of Cambrils and the Town Hall of Cambrils . We all work together promoting activities that place Cambrils as a first-class destination of the highest quality.
We are proud of our restaurateurs because they improve every day, because many are heirs to the restaurant trade from their families, because we have new generations that have been trained in our Hotel and Tourism School, with many being part of the brand  Catalan cuisine , others that are accredited as establishments linked to the project AMED Mediterranean Food , and many preparing gluten-free dishes with some being part of the Celiac Association . In addition, Cambrils Tourism is a member of the  Gastronomic Tourism Club  and the founding town of  Tasting Spain .