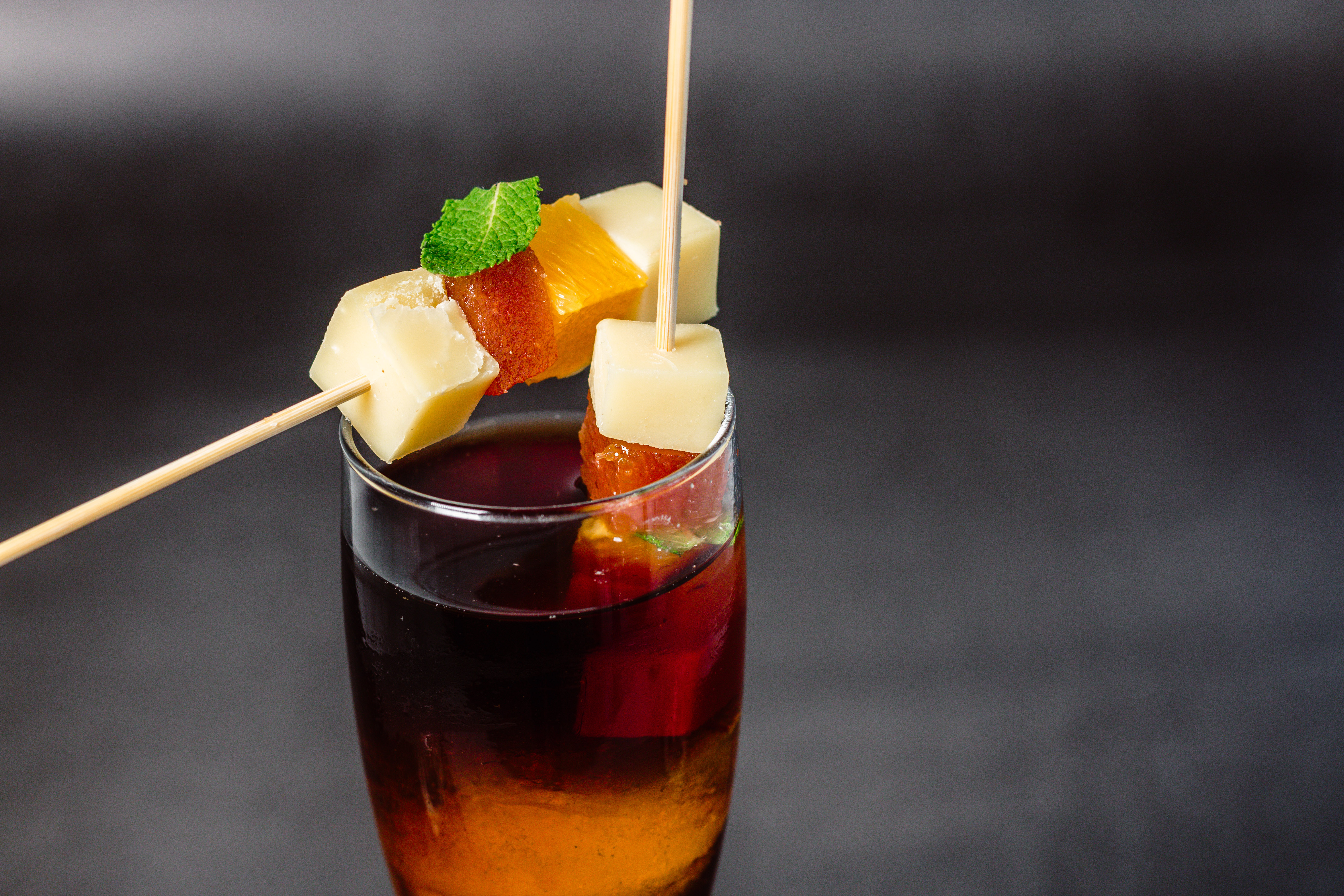 Gastronomic Route in Cambrils "Vermouth by the Sea"
The beginning of this gastronomic route takes you to Reus to discover why the city has been so closely linked to this exquisite product since the 19th century, to then continue into the same century in which you can enjoy a vermouth and a picnic in a colonial park. Approaching the sea and after visiting a monument in the same port, we will first enjoy an aperitif ahead of a spectacular meal in one of the outstanding restaurants of Cambrils. As a snack option and to continue with the vermouth, we offer you two savoury and one sweet idea. And if what you would like is to take home a souvenir, we can recommend you a shop where you will have plenty of choice.
Points of Interest:
Morell Winery
We begin this route in the House of Vermouth and Wine of Reus, a pioneer city in the production of vermouth in the 19th century, which has maintained the traditional method of production for six generations and where you will discover the Vermouth of Reus with its seal of quality and its 8 brands.
We head towards Cambrils but we continue through the 19th century to then go into the Samà Park, one of the best examples of romantic gardening of that century.
Before it's time to eat, we will head to the monument In the Pla de las Serenes, which is in front of the port, to observe the majesty of the sculptural group. As for suggestions on restaurants, we recommend the Miramar restaurant, a modern and cosy place with traditional cuisine and of a supreme quality in front of the port of Cambrils and then without leaving the port we have two more modest possibilities: On the one hand, Daniel Salinas, which was originally a butcher's and has now become a place where you can eat freshly cut cheeses and sausages and drink Vermouth from Reus. And the Tamboret where we continue with high quality cheeses and sausages.
We continue with the food and drink suggestions, but in this case a sweet one, trying the delicious ice creams by the ice cream master Antonio Sirvent, where we can assure you that you will not know which one to choose. Antonio was brave enough to make a spectacular vermouth sorbet, on the occasion of the gastronomic days Vermuting Cambrils and in some restaurants in our town you can still find it.
And finally, we go shopping at Bodega Morell where of course you will find all the brands of the Vermut de Reus seal.
The building is the work of the architect Pere Caselles from Reus and is an outstanding example of modernist industrial architecture. It was one of the first oenological centres in Spain and Europe and today brings visitors closer to the history of the building and explains why Reus is considered the «Capital of Vermouth». Its main objective is to highlight Reus' connection with vermouth since the 19th century and is a place for tasting the different vermouth brands that exist in Reus.
Local's advice: Pay attention to the modernist building in which this place is located. One of the gems of the Modernist Route of Reus.
Address: Passeig de Sunyer, 4, 6, 43202 Reus
GPS: 41.154544, 1.101390
Local's advice: Ask about their different picnic baskets where you simply have to choose the one you like the most. All of them are accompanied by Yzaguirre vermouth, wine or cava along with time to enjoy the architecture (the work of Josep Fontsere and Antonio Gaudí), the flora and fauna of a romantic colonial garden.
Address: Carretera de Vinyols s/n
GPS: 41.104268,1.019416,17
Opened for the first time in 1957 by the grandparents (Agustí and Irene) of the current owner, Joan Gómez Colom, initially as a guest house and economic restaurant in their own private home, where the development of this prestigious establishment is long and which has passed through different stages . At the beginning of 2012 they decided to close the hotel and totally renovate the restaurant, with a modern decoration, maintaining the rustic style with exposed stone and full of fine attention to detail, in different dining rooms, all of them extremely pleasing on the eye. On its own merits, it is considered one of the most important traditional seafood restaurants in Cambrils.
Local's advice: Ask for the dessert menu, authentic delights of homemade desserts. A true guilty pleasure!!
Address: Passeig de Miramar, 30
GPS: 41.064722, 1.0589275
Local's Advice: Go up to its highest point to take some fantastic pictures of the fishing harbour and marina of Cambrils.
Address: Passeig Miramar, 31
GPS: 41.064722,1.0589275
They are a family business that started in the 80s. They have always been dedicated to the sale of meat, charcuterie and cheeses in their own stores to the final consumer and they have always offered a great service with a high quality.
Local's advice: Try the luxury chapati with Joselito ham.
Address: Carrer Pescadors, 5
GPS: 41.065603, 1.061199
It is a very charming pub / bar, a place specialised in platters of different forms and products with its staple product cheese, where the quality simply stands out. The owner offers a spectacular presentation of platters which he serves along with a distinct uniqueness. They perfectly advise on which type of wine to associate with each food. Perfect treatment and customer service.
Local's advice:Let them advise you on the cheeses for your table and you will undoubtedly love the selection.
Address: Carrer Barques, 5
GPS: 41.0669998, 1.061273
The master ice cream maker Antonio Sirvent represents the third generation of ice cream makers. As president of the Spanish team he achieved world runner-up in 2016 in the World Cup of Ice-Cream. He runs an ice cream parlour with artisan products, well-known with a great reputation, earned through hard work, which opened its doors in 1955. Here a wide range of products of excellent quality is offered, which are made in his workshop in Cambrils. It uses totally natural raw ingredients, and prepares gluten-free and lactose-free suggestions. Constantly working and innovating: a new ice cream flavour can take around two years of testing until it achieves the perfect quality and taste, resulting in many flavours leaving you pleasantly surprised.
Local's advice: Don't leave without trying the mojito ice cream or the non-alcoholic gin and tonic or the mandarin orange with speculoos biscuit … fabulous !!
Address: Carrer Consolat de Mar, 44
GPS: 41.065665, 1.06132
Local's Advice: Don't forget to also take a photo of Adrià, the sculpture of the little boy who is sitting in front of the sirens.
Address: Mollet del Rec
GPS: 41.065315, 1.061622
9. Morell Winery
 Morell Winery has been offering since 1964 a great selection of wines mainly from the designation of origin of the province and of different varieties and aging, with the widest range of wines and spirits, to suit all tastes and pockets, always sticking to the same common practice : offering the best products at the best price and with the best customer service.
Local's advice: Don't hesitate to ask for their reserve homemade vermouth (with a very special label), a real delight for your aperitifs.
Local's advice: Buy la La Cambrilenca Beer. This beer is made to pair well with fish, seafood and cheese. It has a style called Fruit Wheat Ale (wheat beer), with a white froth and a firm consistency in the glass. Its aroma is of a blend of citruses distinguished by orange peel, with aromas of cereal and flowers. On the taste-buds the sensation is very refreshing, light and fruity.
Address: carrer Ramón Llull, 24 and carrer Consolat de Mar, 8
GPS: 41.066619, 1.057572