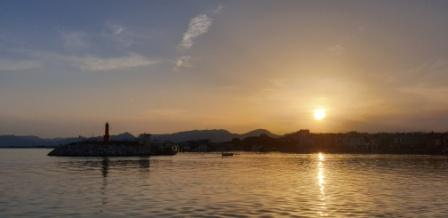 A November in Cambrils to remember
The month of November will give us special moments leaving us with unforgettable memories. From our delicious Romesco Days to the Women's Race, along with such well known events like the Cambrils Jazz and the concerts from the Crypt, our agenda has it all … If you are visiting Cambrils this November, we have the perfect plan for you!
Make the most of the morning walks. In addition to seeing the places of interest, venture through our streets and let the hours go by on relaxing walks. But if this isn't for you, remember that you can jump onto our touristic train and discover the whole town, it is an excellent option if you are in Cambrils for only a few days . In addition, the you can go to Parc Samà, in which until November 10 you can enjoy Dark Samà, a horror passage  that will take you through the most fearsome scenarios in search of the great vampires. Help Van Helsing in his mission … and, above all, try not to scare him too much.
And enjoy a coffee al fresco on any of the terraces of our local establishments , where you will be able to soak up the rays of the autumn sun. And, very important, this November as from the 22nd the Gastronomic Days of Romesco will begin, one of the many culinary emblems of our gastronomy. Reserve your enromescat menu and enjoy the surprises that the chefs of the town have prepared for you. If you want to find out more about this and other days, remember that you have our gastronomic calendar just one click away.
During the month of November jazz is still present in the town of Cambrils, where you can come to the SEISMIC concert that will be held on November 10 in the Crypt of the Chapel. Allow the music to take you back and let yourself go with the rhythm of the town. We remind you that you can check the rest of the concerts scheduled in the Crypt, here.
And if you are one of those who like to run, sign up for the women's race that will be held on November 23 on the promenade of Cambrils. A good excuse to stay fit. In addition, during these days you can also complement your visit to Cambrils with an excursion to the theme park of Port Aventura World.